Every physical therapy practice needs the ability to manage their business and processes around a high-quality EMR software that connects and integrates in every aspect of the way. Inefficient processes that disconnect and disrupt the way that you treat patients, get paid and manage staff can hinder and lead to loss in profits and potential growth. Practice Pro has you covered when it comes to integrating everything you need to reach your goals in one platform.
Its time that you built a complete process across your organization. Ensure your staff, processes, patients and technology are aligned to provide the best experience and process needed to grow and elevate your business. Practice Pro provides the tools and solutions that integrate and help you manage your business full circle.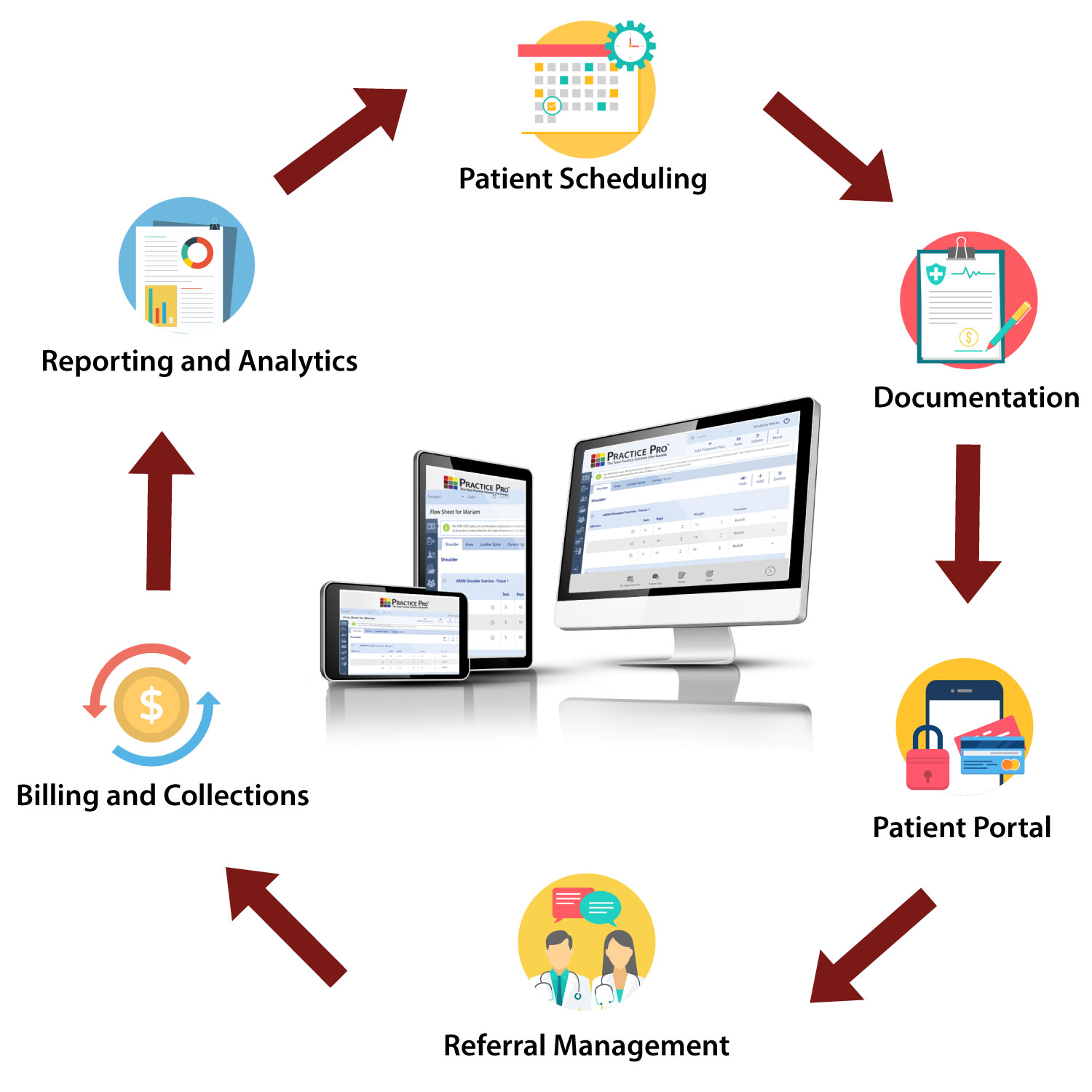 Integrate physical therapy scheduling with your documentation and therapy billing
Does your physical therapy scheduling software fully integrate with your billing and documentation data? Having the right integration allows you to manage appointments while accessing key financial information all in one screen at one time. Easily manage copays and patient financials that has built-in warnings which communicates patients who have expired, missing or unauthorized information that is needed to update allowing you to get paid after a therapy session is complete. Accessing this type of integration provides the perfect solution to avoid billing denials and possible patient frustrations when it comes to their insurance coverage for a physical therapy session.
Connecting physical therapy documentation with an integrated clinical fax module
When it comes to physical therapy documentation you need to document the way you want with the right templates and flexibility. In addition, having an integrated clinical fax module that connects with your documentation is key when it comes to saving you time and money by eliminating the need to fax through an e-fax system or a fax machine. This allows you to avoid unneeded printing and avoiding time consuming manual data entry that includes typing in physician contacts and fax numbers. With our integrated fax module connected to your documentation youll be able to simply generate progress notes and the system will fax to the referring doctor, with the simple press of a button.
Built in physical therapy billing software avoids denials and claim errors
Avoiding billing denials and claim errors are essential when it comes to getting paid what you deserve. Having the right billing system built into your EMR software is key when it comes to therapy coding and collections. Having Medicare compliant billing integrated into your EMR provides 8-minute rule calculations, reimbursement caps, GP and KP modifiers, CCI edits and more. Having the ability to access a powerful rule engine that scrubs claims before they are submitted will allow you to avoid potential denials, errors and rejections. In addition, there will be no need to search for time consuming claim details with our claims dashboard that allows you to manage accounts receivables (AR) with ease all in one place.
Need to know more about how you can access the right EMR integration needed to manage processes full circle without costly disconnect challenges? Visit our website and schedule a demo to discover how Practice Pro and our EMR software solutions can provide the integration you can rely on that includes patient scheduling, referral management, patient portal, EMR documentation, billing, and analytics.