Eliminate Revenue Leakage and
Increase Cash Flow
Automations and Efficiencies...Built-in
Efficiency and accuracy are not just a preference; they are a necessity.
Reducing denials, getting paid faster, and increasing your cash flow are essential to the health, and growth of your business. Automations and streamlined workflows are the cornerstone of our RCM and Billing solutions.
Maximize Practice Revenue
Practice Pro automates billing requirements specific to the payer, such as Medicare, workers comp, commercial, and more — Maximizing billable time, avoiding claim rejections, and focusing on getting paid faster.
Seamless connection to your documentation, scheduling and billing protects you from  the potential risks of being audited and penalized for possible mistakes that can lead to revenue loss.
Our support team guides the growth of your business and helps you navigate any billing challenges that may occur along the way.
Designed to Get you Paid Faster
End-to-End Solution: Manage the entire revenue cycle in a single platform. Everything is connected—a single source of truth.
Peace of Mind: Detailed checks and balances that embed all payer rules and other compliance checks so that you never miss a beat.
Fast and Efficient: Fully automated workflows to scrub claims, transmit them to the clearinghouse, and auto-post ERAs.
Practice Pro's billing software enables you to follow the collections trail with features and reports that automate the entire claims process. Powerful tools allow you to understand the bottlenecks in your revenue cycle and address those issues at their root cause—that's how you do Better Business.
With Practice Pro, you get multiple options when it comes to how you want to run the billing processes in your practice:
• Handle billing yourself using our industry-leading software.
• Let our experts handle the billing for you, worry-free with full transparency.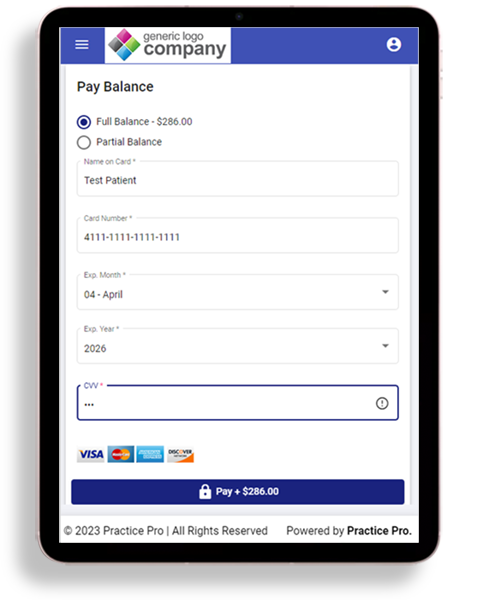 Integrated Credit Card Processing
Seamlessly weave payments into your end-to-end workflow and revenue cycle, by processing payments from the appointment scheduler at the time of patient check-in or check-out.
Payments initiated inside EMR post to both the patient ledger and merchant account simultaneously.
Multiple entry points of payments, including over the counter, over the phone, and the mobile-friendly patient portal.
Convenient and secure features such as card on file and billing and payment plans help you improve the patient experience from check–in through discharge.
Insurance claims management.
From claims to collections, we work with trusted partners to ensure consistent, dependable claims transmission and payment processing. We provide multiple options for claims vendors based on your volume and desired features. All integrations ensure that claims are delivered, and ERAs downloaded successfully and conveniently without additional logins or portals.