Are You on Track with the Right EMR Solution?
The technology and EMR tools you choose to operate more efficiently and elevate your care for 1 to 1000+ clinic locations are critical to your success. It ensures that the essential aspects of your therapy practice are in step with your workflow needs that serve your practice and patients. From intuitive evaluation templates, tailored documentation, automation, and integrations to the customizable features of an integrated EMR system—the core of your success will come along with an EMR solution designed with your practice specialty in mind.
Physical Therapy
All-in-one EMR that Moves You Closer to Your Goals.
Navigating your patient's treatment plans and the goals they have for the future can be a daunting task when your EMR solution is disconnected, static, and inefficient. Experience and market input matter when developing a flexible and robust EMR solution, providing full integration from referral management to patient scheduling through billing, reporting, and global customization designed to handle every aspect of your practice.
Critical EMR Attributes Impacting the care you provide.
The ability to create the perfect template with libraries, templates and content that are filtered by body part for easy access.
Connecting patient and providers—send documentation and progress reports to physicians or payers with built-in electronic faxing.
Customizable and compliant documentation with the content you need by leveraging flexible templates, robust clinical library, outcomes tracking, integrated charges & billing, and an at a glance 360-degree view of patients, physicians, and payers.

KPI and Reporting Insights
Your care is dynamic and responsive — your reporting should be as well. Easy access and a bird's eye view of KPIs and metrics with multiple reporting options enable you to define and track your clinical and administrative goals and performance.
360-degree view of patient and billing data through a single system that measures clinical and financial results
Interactive KPI Dashboards that all you to identify trends and proactively take action to seize opportunities, solve problems, and minimize risks.
Step up the Revenue and Profitability of your Practice with Integrated RCM and Billing.
Add charges and coding automatically during documentation, avoid errors, and reduce the risk of audits.
Identify and eliminate duplicate data entry as charges captured during documentation smoothly flow into billing.
Automate charge and claim scrubbing/review and submission, ERA posting, and denial handling specific to the payer.
Raise coding compliance, increase clean claim submissions rates, and reduce re-bills.
Occupational Therapy
Making Efficiency Your Everyday Activity
In addition to improving the quality of life for your patients by increasing functionality, independence, and participation in daily activities, treating the intricate details of the upper extremities requires focus and efficiency. That's why having an all-in-one EMR solution with automation, customizations, and efficiency built-in streamlines your workflow in all aspects of your practice, along with a simple design that works the way you do.
Scheduling that is Fast and Flexible.
Drag-and-drop scheduling allows you to schedule one time and recurring appointments with ease, set automated text and email reminders, and stay ahead of tasks.
Flexible viewing options of patient and therapist calendars, seamlessly connects you with patient flow.
Collect payments with information seamlessly with scheduling applications that flows to billing.
Connectivity to patient records and an ability to upload all patient onboarding forms to the Patient Portal
KPI & Reporting
It's easy to forget sometimes that your clinical practice is, first and foremost, a business. You can't grow or manage your success if you can't measure your performance and other critical metrics. Having an EMR system designed from the ground up connects your activities in the clinic with the metrics you need to grow and make your next moves operationally. Here are a few things to look for:
Interactive KPI Dashboards allow you to set goals and see important trends in the numbers and proactively take action to seize opportunities, solve problems, and minimize risks.
Access to a variety of reports, pulling numbers from different aspects of your business.
360-degree view of patient and billing data through a single system that measures clinical and financial results
Documentation that Drives Efficiency
Customizable, compliant documentation with the exact content you need, flexible templates, robust clinical library, outcomes tracking, integrated charges & billing, and a complete view of patients, physicians, and payers.
The ability to create the your unique template with built-in occupational therapy related libraries and preset templates .
Send documentation and progress reports to physicians or payers with a single click using our built-in electronic faxing.
Pediatric Therapy
Think Big for Your Tiniest Patients
It's a lifeline for children facing physical challenges; its benefits extend beyond physical improvements. Better care for these little ones is just a click away, with customizable documentation and workflows that let you spend more time improving the care they deserve.
Pediatric physical therapy helps improve a child's physical abilities and motor skills. It has a lasting effect on quality-of-life perception, the navigation of physical limitations, or the opportunity to grow as they develop. It is important to have a flexible, scalable pediatric therapy EMR solution to help you focus on the most important task of the day: maximizing outcomes for the child in your care.
Every clinic is different, here are a few highlights to notice in an EMR solution.
Ensure that your scheduling and documentation modules are flexible and integrated so that you can create, customize, and fine tune your templates to easily carry objective measurements forward from one pediatric therapy visit to the next.
Flexible appointment scheduling across multiple disciplines.
Trackable benefits and authorizations separately for each service type.
Custom, loadable onboarding forms to the Patient Portal.
Examination Profiles designed with Pediatrics in Mind
Access to flexible and customizable documentation templates that allow pediatric therapists to measure and manage progress with every therapy session is vital to monitoring benchmark achievements and progress for your patients and your business.
Speech Language Pathology
Finding Your Voice in an all-in-one EMR Solution
Whether helping a child overcome speech delays or supporting an adult recovering from a stroke, your EMR and practice management software should enhance the efficiency and effectiveness of your care through carefully curated and customizable documentation, with automation that streamlines your care planning and administrative tasks. Below are a few essential questions to ask before you choose an EMR solution.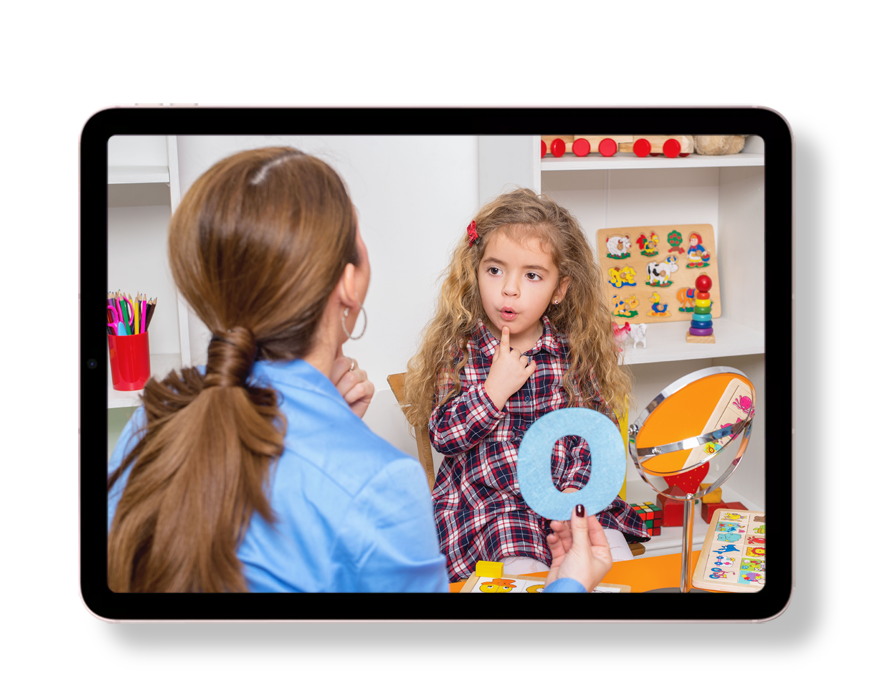 Does your documentation reflect the unique approach of the care you provide?
Creating care plans direct from the EMR, enables you to track the individual needs and progress of your patients more precisely.
Are your SLP-specific evaluation templates built-in?
For speech therapy practices, having customizable evaluation templates developed in collaboration with SLP professionals will give you the time saving freedom you need to access standard SLP fields and a rich goal bank including short and long-term goals and objectives.
What is the best way to streamline a SLP Practice?
Right from the start, automation is a game changer. Connectivity with all activities from scheduling to documentation and billing to reporting and analytics in one place allows you to care, document, and get paid without the hassle.